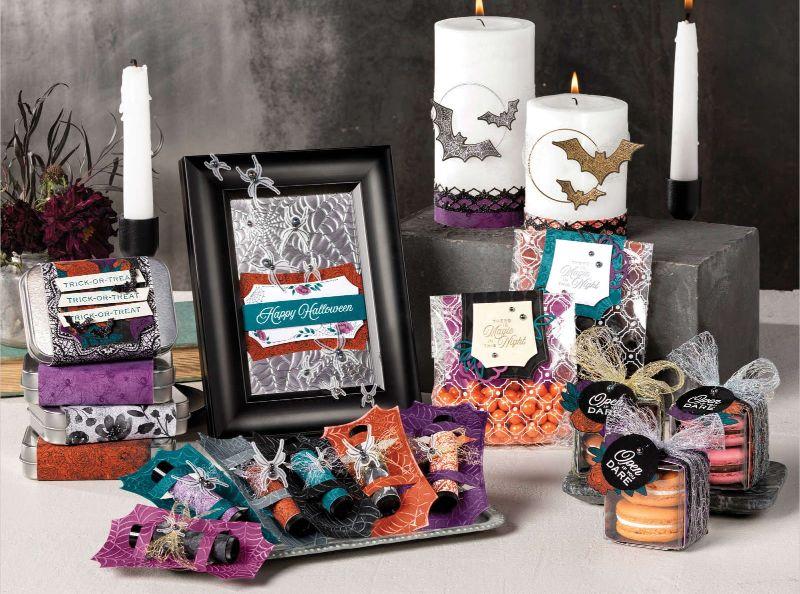 MAGIC IN THE NIGHT SUITE
Hello

This Halloween you can turn your home into a haunted mansion with touches of spooky elegance!

Whether it's a family gathering, or treats for all your ghoulish friends, the Magic in this Night Suite will help you create décor, cards, and treat packaging that is to scream for! There's no better time to do Halloween up big and make it extra-special. The detailed images, striking colours, and rich textures in this suite provide plenty of spooky inspiration for all your hauntingly beautiful projects.

Order today, so you can get your creative magic going before Halloween fades into the mist!

Below I'm sharing an elegantly spooky gift tin tutorial with you. I hope you enjoy creating and gifting this bewitching box!

Sincerely, Enter Name Here
Magic in this Night Rectangle Tin

INSTRUCTIONS:

1) On a Silicone Craft Sheet or disposable plate, use a Palette Knife to mix Shimmery White Embossing Paste with drops Blackberry Bliss Ink Refill until you get a nice rich colour.

2) Make sure the top of the Rectangular Tin is clean. Hold a Basic Pattern Decorative Mask over the top of the box. You can use tape to hold it in place or just hold it steady.

3) Add a generous coating of the coloured embossing paste over the mask and smooth it over the entire top surface with a Palette Knife. The embossing pasted dries rapidly, so work quickly and don't worry about being perfect.

4) Once you finish covering the entire surface, lift off the mask right away. Wash everything that has Embossing Paste on it so that it doesn't dry on your tools or mask. Set the box aside to dry. Depending on temperature, humidity, and the thickness of the embossing paste it can dry in about an hour, but could take several hours.

5) Stamp the large and small bat images on Basic Black cardstock with VersaMark ink. Cover generously with White Stampin' Emboss Powder. Tap off excess powder and then heat emboss with the Heat Tool.

6) Die cut the bats with the coordinating dies. Die cut Black Glitter Paper with the smaller label die.

7) Adhere the bats to the glitter paper label with Mini Glue Dots or Stampin' SEAL+.

8) Once the Embossing Paste is completely dry, adhere the label to the box with Mini Glue Dots or Stampin' SEAL+.

9) Fill the box with your treats or gifts.

10) Cut 18" of each ribbon. Wrap them longways around the box and knot them together. Trim ribbon ends.

SUPPLIES:

Hallows Night Magic Bundle (#155188)

INK: VersaMark (#102283), Blackberry Bliss Ink Refill (#133648)

PAPER: Basic Black cardstock (#121045), Black Glitter Paper (#153518)

TOOLS: Basic Pattern Decorative Masks (#150697), Palette Knives (#142808), Heat Tool (#129053), Stampin' Cut Y Emboss Machine (#149653), Optional - Silicone Craft Sheet (#127853)

EMBELLISHMENTS: 1-1/2" Metallic Mesh Ribbon (#153550), Black 3/8" Glittered Organdy Ribbon (#147897), Shimmery White Embossing Paste (#145645), White Stampin' Emboss Powder (#109132), Rectangle Tin (#153519)

ADHESIVES: Mini Glue Dots (#103683) or Stampin' SEAL+ (#149699)


TIPS: The Rectangle Tin is a hinged silver box that measures 4" x 2-3/4" x 1". Fill the box with individually wrapped candies, a couple spookily decorated cookies, a gift card, spider rings or other Halloween themed toys, or even scavenger hunt clues. So many ways to make someone's day with this magically, spooky box.

More Inspiration in the Mini Catalogue!

Independent Stampin\\\' Up! Demonstrator
City, State, Country